Americana Selections - Amendments 11-27
~ The Constitution of the United States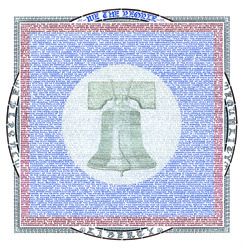 Amendments 11 through 27 cover a range of rights as well as limitations:

Amendment 11 establishes judicial limits.

Amendment 12 outlines the process for electing the President and Vice President.

Amendment 13 abolishes slavery.

Amendment 14 describes the privileges of citizenship.

Amendment 15 states that the right to vote shall not be denied on account of race.

Amendment 16 gives Congress the power to collect income taxes.

Amendment 17 establishes the election of Senators by popular vote.

Amendment 18 prohibited the manufacture and sale of intoxicating liquors.

Amendment 19 states that the right to vote shall not be denied on account of sex.

Amendment 20 sets the beginning of congressional and presidential terms of office.

Amendment 21 repeals the eighteenth amendment.

Amendment 22 defines presidential term limits.

Amendment 23 gives presidential voting rights to the District of Columbia.

Amendment 24 states that the right to vote shall not be denied on account of any poll tax.

Amendment 25 delineates presidential succession.

Amendment 26 establishes the right to vote at age eighteen years or older.

Amendment 27 limits congressional pay increases.

Susan chose the Liberty Bell to represent the liberties established in these amendments. The Liberty Bell became an icon of American freedom when abolitionists adopted it as their symbol. The New York Anti-Slavery Society first used it as a frontispiece to an 1837-edition of their periodical, Liberty. Previously called the "State House bell," it was named the "Liberty Bell" by abolitionists in reference to its inscription, "Proclaim Liberty throughout all the land unto all the inhabitants thereof," from Leviticus 25:10.
It took Susan seven months to illustrate and letter the more than 2600 words of Amendments 11 through 27. She lettered the amendments in red and blue over a background drawing of the Liberty Bell in shades of grey. The words, "justice," "liberty," and "equality" in black and the phrase "we the people" in blue, surround the amendments. She feels honored to be lettering these important American documents.
Amendments 11 - 27
Print Image Size: 15-1/2" x 15-1/2"
Print Paper Size: 18" x 18-1/2"
Frame Size: 23" x 23"
Gift wrap available. Please specify occasion.

| | |
| --- | --- |
| Are you ready to make a purchase? You can... | |
---
Use our SEARCH ENGINE if you are you looking for a Literary Calligraphy painting with a specific word or phrase!
Return to complete Online Catalog
Show Schedule | New Items | Request Color Print Catalog
Contact Us | Frequently Asked Questions | Home