Americana Selections - Article II. Executive
~ The Constitution of the United States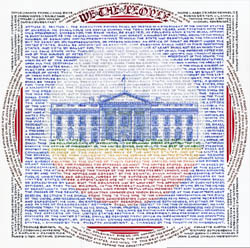 "The executive power shall be vested in a President of the United States of America...." Article. II. Section. 1.
Article II of the U. S. Constitution establishes the executive branch of government. It determines the method of electing the President and Vice President, their qualifications and compensation. It makes the President commander in chief of the army and navy and able to grant pardons. It establishes the impeachment process. It allows the President, with the advice and consent of Congress, to make treaties and appointments, and to give advice to Congress on the state of the Union. It contains the presidential oath of office.
Susan hand-lettered Article II over a background drawing of the White House, viewed from the North Grounds. She carried over the colors of black, brown, red, white, and blue and the themes established in "The Preamble" into this piece. "We the people," lettered in deep red Gothic capitals, looms above the White House. The text of Article II is surrounded by the names of real people who Susan met at her art shows and agreed to help her represent "We the people."
(Upper Left Corner) Theresa Stewart, Deborah Doyle, Nancy Frank, Anne Betts, Sherrill Murray-Lazarus, Janice Weiss, Sahe J. Kaur, Annemarie Linini-Paris, Bubba Fast, (Upper Right Corner) Marie L. Nash, Karen Kennel, Michael Christopher, Juretta, Susan Dexter, Laura A. Hanley, Julian Wiseman, Michael Kensinger, Susan C. Bretsch, (Lower Left Corner) Rene Schillinger, Thomas Burger, Carol Streaser, Bari J. Gossman, Alyse Roe, James R. Moore, Natalie J. Kaplan, Oliver Roe, Allison Christopher, Laura Panos, Rev. Arthur Downing, (Lower Right Corner) Collette Austin, Richard Schoenberg, Mary Quinn, John Hanley, Jenn Cairo, Helga Westerhoff, Michele Doyle, Kevin Sullivan, Caelin Bryce Eissenberg, Robert Mooney, (Left Circle) Lesley Reich, Peggy Catherine, Kathy Schwager, Frank Canfeld, The Maserjians, Lindsay Clark, Janice and Ron Demblowski, Sara Jane Rohr, Kenneth J. Bernstein, Susan Disidore, Pamela Kennedy, Alicia Taylor, Marc T. Gaiger, (Right Circle) Janet Fleming, Scott Paris, Keith Tompkins, Lisa Tompkins, Dawn Ray, Rebekah McKenzie, Nancy Organ, Bill Organ, Polly Czepiel, Stuart Fleischman, Sylvia Fleischman, Marjorie Fleischman, Holly Porter, John Bonagura, Lisa Joffe, (Upper Circle) Ruth Elizabeth McCully, Kate Jones, Marie Harper, Ronald F. Ayers, Wendy Ban, Susan Loy
The lower circle repeats the presidential oath of office: "I do solemnly swear (or affirm) that I will faithfully execute the Office of President of the United States, and will to the best of my Ability, preserve, protect and defend the Constitution of the United States."

"Article II. Executive"
Print Image Size: 9-1/2" x 9-1/2"
Print Paper Size: 11" x 11-1/2"
Frame Size: 16" x 16"
Gift wrap available. Please specify occasion.

| | |
| --- | --- |
| Are you ready to make a purchase? You can... | |
---
Use our SEARCH ENGINE if you are you looking for a Literary Calligraphy painting with a specific word or phrase!
Return to complete Online Catalog
Show Schedule | New Items | Request Color Print Catalog