Americana Selections - Article III. Justice
~ The Constitution of the United States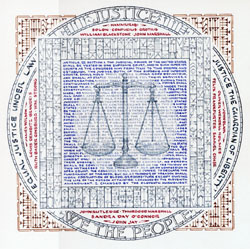 "The judicial Power of the United States, shall be vested in one supreme Court, and in such inferior Courts as the Congress may from time to time ordain and establish...." Article III. Section. I.
Article III establishes the judicial powers of the United States, terms of office, compensation, and jurisdictions. It defines treason, its terms of conviction and punishment, and guarantees trial by jury. Susan hand-lettered the text over a drawing of the scales of justice. Fragments from Hammurabi's code, lettered in cuneiform, provide the background for the words to Article III.
The names of historic law givers, lawyers, and Supreme Court justices fill the arcs on four sides: (upper arc) Hammurabi, Solon, Confucius, Grotius, William Blackston, John Marshall, (lower arc) John Rutledge, Thurgood Marshall, Sandra Day O'Connor, John Jay, (left arc), James Wilson, Louis Dembitz Brandeis, Ruth Bader Ginsburg, Wm. Strong, (right arc), John Blair, Oliver Wendell Holmes, Felix Frankfurter, Samuel Chase.
Carrying over the colors of black, brown, red, white, and blue and the themes established in "The Preamble," she outlined the words, "Justice" and "We the People." She used elements from the Supreme Court Building in the design, lettering the words incised on the architrave above the west and east porticos, "Equal Justice Under Law" and "Justice the Guardian of Liberty."

"Article III. Justice"
Print Image Size: 9-1/2" x 9-1/2"
Print Paper Size: 11" x 11-1/2"
Frame Size: 16" x 16"
Gift wrap available. Please specify occasion.
We have partnered with amazon.com ~ you will enjoy the same price, quicker delivery, and lower shipping rates than we can offer in-house.
Are you ready to order? Click the Amazon logo below...

---
Use our SEARCH ENGINE if you are you looking for a Literary Calligraphy painting with a specific word or phrase!
Return to complete Online Catalog
Show Schedule | New Items | Request Color Print Catalog
Contact Us | Frequently Asked Questions | Home