Language of Flowers Selections - "LANGUAGE OF GARDEN FLOWERS"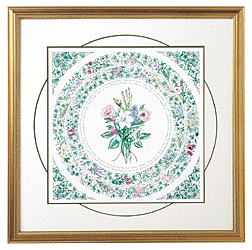 Susan Loy of Literary Calligraphy in Moneta, VA, joins text from literary classics or Biblical passages with delicate watercolor images and creates a unique bond between fine art and literature.
The painting took Susan 366 hours to complete, primarily because she included 26 tiny flowers, one for each letter of the alphabet. This is the third in a series of prints with an extensive floral alphabet, the other two are sold out.
An elegant bouquet of the quintessential garden flowers -- roses, lilies, lilacs, zinnias, and lily of the valley, is surrounded by a text by Ralph Waldo Emerson. The text from "Self-Reliance" sets the stage, "These roses under my window make no reference to former roses or to better ones; they are for what they are; they exist with God to-day..."
The wreath of 26 small flowers that surrounds the text presents a carefully-researched floral alphabet from "Aster: Variety" to "Zinnia: Thoughts of Absent Friends." Ivy weaves through the painting to unify the diverse colors and hues.
"Language of Garden Flowers"
Edition limited to 3,000 signed & numbered prints
Image size 15-1/2"x15-1/2"
Paper size: 18"x18-1/2"
Frame size: 23"x23"
Save 20% on this print when you order "Floral Offering: A Pair of Prints"
Gift wrap available. Please specify occasion.
Read the COMPLETE TEXT for "Language of Garden Flowers"

| | |
| --- | --- |
| Are you ready to make a purchase? You can... | |
---
Use our SEARCH ENGINE if you are you looking for a Literary Calligraphy painting with a specific word or phrase!
Return to complete Online Catalog
Show Schedule | New Items | Request Color Print Catalog