Poetry Selections - "Hope is the Thing with Feathers"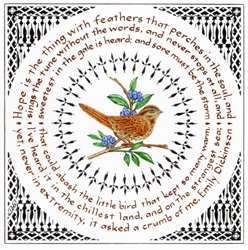 Susan Loy chose the song sparrow to illustrate Emily Dickinson's metaphor for hope, "the little bird that kept so many warm."
Hope is the thing with feathers that perches in the soul, and
sings the tune without the words, and never stops at all, and
sweetest in the gale is heard; and sore must be the storm
that could abash the little bird that kept so many warm.
I've heard it in the chillest land, and on the strangest sea;
yet, never in extremity, it asked a crumb of me.
The poem gives some clues to the bird's identity: its sweet song, its small size, its popularity (kept so many warm), and its distribution (from the chillest land to the strangest sea). Although several North American songbirds fit the description, the song sparrow is a year-round resident in much of North America and has certainly warmed the hearts of many. At 5-7", it is "little." Its familiar song is often three sweet notes followed by a bubbling trill, likened to Maids-Maids-Maids, put-on-your-teakettle, teakettle-ettle-ettle. Dickinson mentioned sparrows in several of her poems and letters.
Song sparrows, Melospiza melodia, vary greatly from one region to another; a typical song sparrow is brown with dark specks, gray eyebrows, and a whitish chest with dark streaks that often form a dark spot in the center of the chest. They live in hedges, old fields, and gardens and eat a wide variety of small insects, seeds, and fruits such as blueberries. The brown and gray song sparrow is shown perched on a blueberry shrub and surrounded by a circular border of song sparrow tracks. The poem, lettered in brown, is surrounded by a black border reminiscent of garden latticework. Emily Dickinson wrote this poem about hope around 1861, and it was first published in 1891 in Poems, Second Series, edited by Mabel Todd Loomis and Thomas Wentworth Higginson.

"Hope is the Thing with Feathers"
Emily Dickinson
Signed prints produced from the original watercolor
Image size: 6" x 6"
Frame size: 12" x 12"
Read the COMPLETE TEXT for "Hope is the Thing with Feathers"
We have partnered with Amazon.com ~ you will enjoy the same price, quicker delivery, and lower shipping rates than we can offer in-house.

---
Use our SEARCH ENGINE if you are you looking for a Literary Calligraphy painting with a specific word or phrase!
Return to complete Online Catalog
Show Schedule | New Items | Request Color Print Catalog