Poetry Selections - "If"
Rudyard Kipling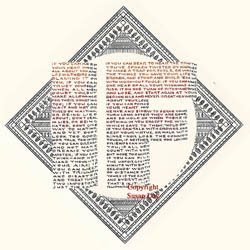 If you can keep your head when all about you are losing theirs and blaming it on you,
If you can trust yourself when all men doubt you, but make allowance for their doubting too;
If you can wait and not be tired by waiting, or being lied about, don't deal in lies,
Or being hated, don't give way to hating, and yet don't look too good, nor talk too wise:
If you can dream– and not make dreams your master; if you can think– and not make thoughts your aim;
If you can meet with Triumph and Disaster and treat those two impostors just the same;
If you can bear to hear the truth you've spoken twisted by knaves to make a trap for fools,
Or watch the things you gave your life to, broken, and stoop and build 'em up with worn-out tools:
If you can make one heap of all your winnings and risk it on one turn of pitch-and-toss,
And lose, and start again at your beginnings and never breathe a word about your loss;
If you can force your heart and nerve and sinew to serve your turn long after they are gone,
And so hold on when there is nothing in you except the Will which says to them: "Hold on!"
If you can talk with crowds and keep your virtue, or walk with Kings– nor lose the common touch,
If neither foes nor loving friends can hurt you, if all men count with you, but none too much;
If you can fill the unforgiving minute with sixty seconds' worth of distance run,
Yours is the Earth and everything that's in it. "If," ~ Rudyard Kipling
Kipling was born in 1865 in Bombay, educated in England, and lived in Vermont for four years beginning in 1892. He was inspired to write "If" in 1895 but did not publish the poem until 1910 in Rewards and Fairies, a collection of poems and stories. Kipling's inspirational poem has been repeatedly voted one of the most popular English poems; one line, "If you can meet with Triumph and Disaster and treat those two impostors just the same," is written on the wall of the players' entrance at Wimbledon. Kipling received the Nobel Prize for Literature in 1907.
Susan Loy lettered the poem to form the word IF, creating a calligram, which is a poem in which calligraphy is arranged in a way to create an image that expresses visually what the poem says. She arranged the words of the poem to form three-dimensional letterforms of I and F in gradient shades from orange, to red, to burgundy, surrounded by a detailed black border inspired by designs of India, where Kipling was born.

"If"
Signed prints from Susan Loy's original watercolor
Image size: 8-3/4" x 8-3/4" on the diagonal (6-3/4" x 6-3/4" square)
Paper size: 14" x 14" on the diagonal (10" x 10" square)
Frame size: 17" x 17" on the diagonal (12" x 12" square)
Gift wrap available. Please specify occasion.
Read the COMPLETE TEXT for "If"
We have partnered with amazon.com ~ you will enjoy the same price, quicker delivery, and lower shipping rates than we can offer in-house.
Are you ready to order? Click the Amazon logo below...

---
Use our SEARCH ENGINE if you are you looking for a Literary Calligraphy painting with a specific word or phrase!
Return to complete Online Catalog
Show Schedule | New Items | Request Color Print Catalog
Contact Us | Frequently Asked Questions | Home