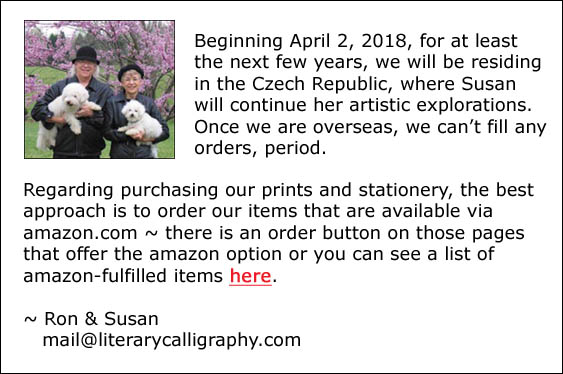 Originally published in the Smith Mountain Eagle, January 2003
MEET SUSAN AND RON
Making creativity pay off may seem like an impossibility to most artists, but not if the right combination is put in effect. Lake artist Susan Loy and her husband and promoter, Ron Ayers, have woven their talents together to form a successful nation-wide business that is based in Moneta.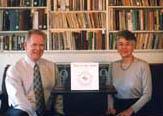 Besides having found that "right" combination to market the unique pieces Susan creates, she also discovered a style that not only satisfied her artistic talents but also became popular in the public's eye. Susan grew up in a suburb of Cleveland, Ohio and received her master's degree from Ohio State in American Studies, a major she chose to focus on Art History, Literature, and Geography. "I have a practical side," said Loy, "and I knew that Art History and Literature were not going to lead me to jobs," and she was right. After graduating, she took a position as Geographer with the Battelle Memorial Institute in Ohio where she met her future husband.
Ron was born in Pittsburgh, PA and majored from Penn State graduate school in Mineral Economics. After meeting Susan at work, the couple moved to Milwalkee where he worked in corporate research for awhile. Ron belongs to the Ayers family of the White House area of Huddleston and is the brother of Glen Ayers, a writer and also a contributor to the Smith Mountain Eagle. When Ron's mother's health was failing in 1981, he and Susan moved to the Lake to help care for her, and now live on a portion of the original Ayers' land that belonged to the family back in the 1700s.
For the next four years, the couple ran their own country consulting business. During that time, Susan also focused on her art and began to establish herself locally. Before she left college she had taken a course in calligraphy that would have a greater impact on her career than she imagined. In 1985, Ron was offered a position at Ferrum College as assistant professor of Economics, where he stayed for five years. While there, Ron also taught seminars on catalog marketing. "At the same time," said Susan, "he was looking at me with this really unique product that was perfect for catalogs." He then joined Susan in her business as Vice President in 1990, and has been President of the company for five years. He markets her increasingly popular artwork through his own creations of a full color catalog, brochures, a newsletter and website.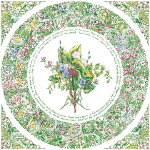 After their move to the Lake, Susan said she experimented with just about any way she could think of to make her living as a calligrapher or graphic designer, but was not happy in those mediums alone. She also had been painting in the style of one of her favorite artists, Georgia O'Keeffe, and exhibited oil paintings at Bedford's Art in the Alley (her first show, and where she won many People's Choice awards), and at Roanoke's Festival in the Park. When she questioned her career path of following in the footsteps of O'Keeffe or developing her own style of art which integrated flowers, calligraphy and her love of literature, for which she said she had "a million ideas," the answer was clear. "I knew it could occupy me for the rest of my life," said Susan.
Many of her unique watercolor paintings, which take about two months to complete, depict a main theme in the center, like flowers, leaves or plants, that is surrounded by a circular literary verse. The versus that Susan chooses, relate to the subject matter and are quotes from Shakespeare, Emily Dickinson, William Wordsworth, Walt Whitman, Henry David Thoreau, or the Bible, to name a few. She uses in transparent watercolors and likes the effect it gives to the calligraphy as well as the botanicals.
The couple's business has grown to include seven full and part time employees from the immediate area who work in a large shop on the property and cut matte frames, frame Susan's prints, and process the mailing list that goes out to 35,000 people throughout the U.S. Approximately 3,000 prints are shipped to individuals and collectors each year. Ron and Susan continue to accumulate satisfied clients by participating in large, juried arts-and craft shows, national annual conferences, and flower exhibits, like the Philadelphia Flower Show, the nation's largest indoor exhibit.
A highlight in Susan's career was being chosen as the artist for the 125th anniversary of the Easter Egg Roll at the White House. According to Susan, the honor included three stages. First, she designed a program cover for the event, then was invited out onto the lawn to gather impressions, which according to Ron is the only time the public is allowed on the lawn, and finally, she presented a painting to the President and First Lady. Always conducting research before she paints, Susan was impressed by yellow tulips and wisteria on her day in the garden and thought it would be special, since it was a landmark anniversary, to include some history of the egg roll. First, she enlisted the help of the Easter Egg Roll historian and the head gardeners, and then presented her finished painting to President Clinton and First Lady, Hillary.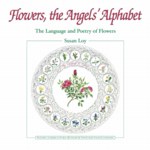 It included the tulips and wisteria as well as species of flowers that were growing during the first egg roll, a description of the landscaping at that time, and quotes from four First Ladies who had written about the event. "Just being in the White House," said Susan, "I hadn't been that thrilled since I was a kid!"
In their catalog, "Literary Calligraphy," Susan's artwork has many different themes; love, marriage, friendship, nursery rhymes and stories, Christmas and Biblical. There are note cards and stationery, a calendar, her book, Flowers, the Angels' Alphabet, The Language of Flowers Collection and Literary Leaves.
by Melody Tinder
Courtesy of Smith Mountain Eagle
Moneta, VA
January 22, 2003