Wedding Selections - "I AM MY BELOVED's"
Song of Songs 6:3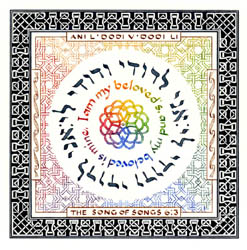 "I am my beloved's, and my beloved is mine..."
Ani l'dodi v'dodi li (Hebrew)
Susan lettered this wedding verse in English and in Hebrew. The verse is from Song of Songs 6: 3 also called The Song of Solomon or Canticles. It is a book of the Bible, traditionally ascribed to Solomon, the son of David and Bathsheba and king of Israel from 960 B.C. to 922 B.C. Some scholars believe it was composed later, and some believe it is an allegorical love poem that may have been sung at ancient weddings. It remains a popular wedding verse today.
The Hebrew verse is lettered in a circle in black watercolors and surrounds the English verse, lettered in shades of the color wheel, from red to yellow, green, and blue. These surround an intricate circular design, known as the Seal of Solomon or David's Shield, also in shades of the color wheel. A background of interlacing lines and a border of black and white braided patterns complete the piece.
"I Am My Beloved'sĒ Song of Solomon 6:3, print by Susan Loy
Signed prints from Susan Loy's original watercolor
Print Image Size: 6" x 6"
Print Paper Size: 10" x 10"
Frame Size: 12" x 12"

We have partnered with amazon.com ~ you will enjoy the same price, quicker delivery, and lower shipping rates than we can offer in-house.
Are you ready to order? Click the Amazon logo below...

---
Use our SEARCH ENGINE if you are you looking for a Literary Calligraphy painting with a specific word or phrase!
Return to complete Online Catalog
Show Schedule | New Items | Request Color Print Catalog
Contact Us | Frequently Asked Questions | Home