Americana Selections - "THESE BLESSINGS"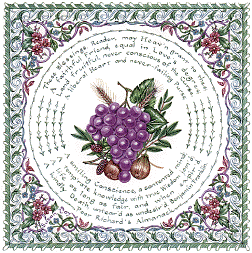 Susan Loy of Literary Calligraphy in Moneta, VA, joins text from literary classics or Biblical passages with delicate watercolor images and creates a unique bond between fine art and literature.
Perfect as a house warming gift, from "Poor Richard's Almanack," Benjamin Franklin wishes these five blessings upon his reader -- a faithful friend, fruitfulness, prosperity, wisdom, and longevity. Susan used the historic language of flowers to symbolize these blessings by painting a bouquet of five species representing these sentiments including purple grapes (fruitfulness), wheat (prosperity), and white mulberry (wisdom). This vivid bouquet is surrounded by pale green lettering and complementary, intricate border.
"These Blessings"
Signed prints produced from an original watercolor painting;
Image size: 6" x 6", Frame Size: 12" x 12"
Gift wrap available. Please specify occasion.
Read the COMPLETE TEXT for "These Blessings"

| | |
| --- | --- |
| Are you ready to make a purchase? You can... | |
---
Use our SEARCH ENGINE if you are you looking for a Literary Calligraphy painting with a specific word or phrase!
Return to complete Online Catalog
Show Schedule | New Items | Request Color Print Catalog