Americana Selections - "HOUSE PRAYER"
Louis Untermeyer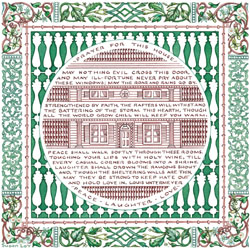 Susan Loy of Literary Calligraphy in Moneta, VA, joins text from literary classics or Biblical passages with delicate watercolor images and creates a unique bond between fine art and literature.
Louis Untermeyer's poem was first published in 1923 in This Singing World, an anthology edited by Untermeyer, who in literary circles is best-known as an anthologist and poet. In American popular culture he was known as a television game-show panelist, a charter member of "What's My Line?" A longtime friend of Robert Frost, he helped bring Frost's poetry to the American reader.
The poem, "May nothing evil cross this door, and may ill-fortune never pry about these windows; may the roar and rains go by. Strengthened by faith, the rafters will withstand the battering of the storm. This hearth, though all the world grow chill will keep you warm. Peace shall walk softly through these rooms, touching your lips with holy wine, till every casual corner blooms into a shrine. Laughter shall drown the raucous shout and, though the sheltering walls are thin, may they be strong to keep hate out and hold love in."
Susan hand-lettered Untermeyer's "Prayer for This House" in brown watercolors in the form of a circle, filled with the text of the poem and tiny drawings of a house whose foundation is peace, laughter, and love. The circle is squared by a gray-green background with positive and negative renderings of baluster shapes; balusters are the supports of a handrail.
The border in shades of gray-green, green, and brown is a series of panels with highly detailed decorative designs inspired by Untermeyer's description of his parent's house in his autobiography, Bygones.
"House Prayer"
Signed prints produced from the original watercolor.
Print Image Size: 3-3/4" diameter,
Print Paper Size: 8" x 8" ; Frame Size: 10" x 10"
Gift wrap available. Please specify occasion.
Read the COMPLETE TEXT for "House Prayer"

| | |
| --- | --- |
| Are you ready to make a purchase? You can... | |
---
Use our SEARCH ENGINE if you are you looking for a Literary Calligraphy painting with a specific word or phrase!
Return to complete Online Catalog
Show Schedule | New Items | Request Color Print Catalog