Americana Selections - "MOTHER'S JOYS!" by Walt Whitman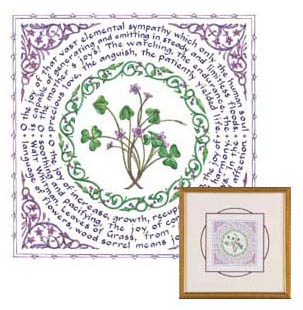 Susan Loy of Literary Calligraphy in Moneta, VA, joins text from literary classics or Biblical passages with delicate watercolor images and creates a unique bond between fine art and literature.
Whitman celebrates the precious love and endurance of motherhood:
"O the joy of that vast elemental sympathy which only the human soul is capable of generating and emitting in steady and limitless floods. O the mother's joys! The watching, the endurance, the precious love, the anguish, the patiently yielded life. O the joy of increase, growth, recuperation, the joy of soothing and pacifying, the joy of concord and harmony."
Leaves of Grass from "A Song of Joys"
Whitman first included "A Song of Joys" in the third edition of Leaves of Grass in 1860. Titled "Poem of Joys," the whole poem underwent extensive revision and received its present title in the 1881 edition. Whitman was close to his mother, Louisa Van Velsor Whitman and wrote that she was "the rarest combination of practical, moral and spiritual, and the least selfish, of all and any I have ever known."
Most of the thirty species of wood sorrels that occur in the United States bloom in May at Mother's Day. Susan painted the violet wood sorrel, Oxalis violacea, an American native species.
Signed prints produced from the original watercolor.
"MOTHER'S JOYS!"
Print Image Size: 4-1/2" x 4-1/2"
Print Paper Size: 8" x 8"
Frame Size: 10" x 10"
Gift wrap available. Please specify occasion.
Read the COMPLETE TEXT for "MOTHER'S JOYS!"

| | |
| --- | --- |
| Are you ready to make a purchase? You can... | |
---
Use our SEARCH ENGINE if you are you looking for a Literary Calligraphy painting with a specific word or phrase!
Return to complete Online Catalog
Show Schedule | New Items | Request Color Print Catalog