Americana Selections - "THE ROAD NOT TAKEN"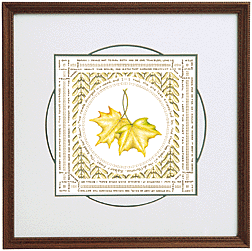 Two roads diverged in a yellow wood, And sorry I could not travel both And be one traveler, long I stood And looked down one as far as I could To where it bent in the undergrowth;
Then took the other, as just as fair, And having perhaps the better claim, Because it was grassy and wanted wear; Though as for that the passing there Had worn them really about the same,
And both that morning equally lay In leaves no step had trodden black. Oh, I kept the first for another day! Yet knowing how way leads on to way, I doubted if I should ever come back.
I shall be telling this with a sigh Somewhere ages and ages hence: Two roads diverged in a wood, and I - I took the one less traveled by, And that has made all the difference. Robert Frost
Robert Frost wrote the poem in 1916, when he was a poet-in-residence at Amherst College. The text forms a border of two thin brown lines that wind their way around a background of tan maple seeds, finally breaking off to form the inside circle that surrounds two yellow maple leaves.
"The Road Not Taken" Robert Frost, print by Susan Loy
Signed prints from Susan Loy's original watercolor
Image size 6"x6"
Frame size: 12"x12"
Gift Wrap available. Please specify occasion.
Read the COMPLETE TEXT for "The Road Not Taken"

| | |
| --- | --- |
| Are you ready to make a purchase? You can... | |
---
Use our SEARCH ENGINE if you are you looking for a Literary Calligraphy painting with a specific word or phrase!
Return to complete Online Catalog
Show Schedule | New Items | Request Color Print Catalog
Contact Us | Frequently Asked Questions | Home