Americana Selections - "SIMPLE GIFTS"
From Shaker Hymn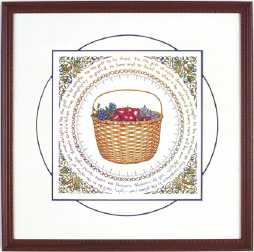 Susan Loy of Literary Calligraphy in Moneta, VA, joins text from literary classics or Biblical passages with delicate watercolor images and creates a unique bond between fine art and literature.
Susan inscribed the text of the Shaker hymn, "Simple Gifts," in two concentric circles in full color, creating a color wheel that represents the gift of color. The text surrounds a traditional Shaker ash splint apple basket filled with deep red Wealthy apples, dark blue blueberries, and blue forget-me-nots, which represent the gifts of fruit and flowers.
Four corner drawings include brown mourning doves, green leaves, red cherries, and blue morning glories, more representatives of simple gifts.
"Simple Gifts
Signed prints produced from an original watercolor painting
Print Image Size: 9-1/2" x 9-1/2"
Print Paper Size: 11-1/2" x 11"
Frame Size: 16" x 16"
Read the COMPLETE TEXT for "Simple Gifts"

| | |
| --- | --- |
| Are you ready to make a purchase? You can... | |
---
Use our SEARCH ENGINE if you are you looking for a Literary Calligraphy painting with a specific word or phrase!
Return to complete Online Catalog
Show Schedule | New Items | Request Color Print Catalog