Childrens' Selections - "BLESSED CHILD"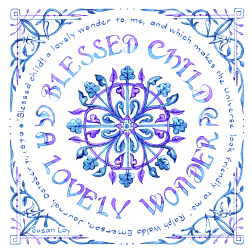 Susan Loy of Literary Calligraphy in Moneta, VA, joins text from literary classics or Biblical passages with delicate watercolor images and creates a unique bond between fine art and literature.
This print features Ralph Waldo Emerson journal entry upon the birth of his first child, "Blessed child! a lovely wonder to me, and which makes the Universe look friendly to me." Journal, October 31, 1836.
Susan dedicated the painting to our nephew, Ian Preston Dunn, on the occasion of his birth. She illuminated the words Blessed child! in a watercolor wash from blue to purple. The blue text is surrounded by a detailed design, inspired by decorative arts from Emerson's era, in shades of blues and purple.
"Blessed Child"
Signed prints produced from an original watercolor painting.
Print Image Size: 4-5/8" x 4-5/8"
Print Paper Size: 8" x 8"
Frame Size: 10" x 10"
Gift wrap available. Please specify occasion.
Read the COMPLETE TEXT for "Blessed Child"
We have partnered with amazon.com ~ you will enjoy the same price, quicker delivery, and lower shipping rates than we can offer in-house. Are you ready to order? Click the Amazon logo below...

---
Use our SEARCH ENGINE if you are you looking for a Literary Calligraphy painting with a specific word or phrase!
Return to complete Online Catalog
Show Schedule | New Items | Request Color Print Catalog