Childrens' Selections - "MOTHER GOOSE: HEY DIDDLE DIDDLE"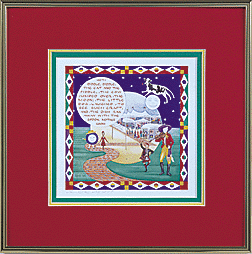 Susan Loy of Literary Calligraphy in Moneta, VA, joins text from literary classics or Biblical passages with delicate watercolor images and creates a unique bond between fine art and literature.
Bright primary colors add a cheerful note to this Mother Goose nursery rhyme. Susan took her text from The Big Book of Nursery Rhymes, published in 1903, which contains the variation that rhymes: "...the little dog laughed to see such craft."
Susan couldn't resist a bit of nonsense of her own in her take on the little dog seeing such craft. She illustrated a tiny arts & craft festival in the background, populated by crafts, animals, relatives, and other persons that Susan knows well.
"Mother Goose: Hey Diddle Diddle"
Edition limited to 4,000 signed & numbered prints.
Image size: 6" x 6", Frame Size: 12" x 12"
Gift wrap available. Please specify occasion.
Read the COMPLETE TEXT for "Mother Goose: Hey Diddle Diddle"
We have partnered with Amazon.com ~ you will enjoy the same price, quicker delivery, and lower shipping rates than we can offer in-house.

---
Use our SEARCH ENGINE if you are you looking for a Literary Calligraphy painting with a specific word or phrase!
Return to complete Online Catalog
Show Schedule | New Items | Request Color Print Catalog