Children's Selections - "MONDAY'S CHILD"
~ Mother Goose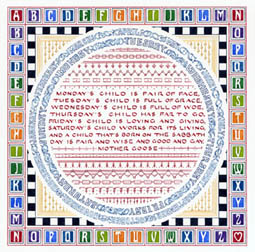 Signed prints produced from the original watercolor.
"Monday's child is fair of face,
Tuesday's child is full of grace,
Wednesday's child is full of woe,
Thursday's child has far to go,
Friday's child is loving and giving,
Saturday's child works for its living,
and a child that's born on the Sabbath
day is fair and wise and good and gay."
The nursery rhymes of Mother Goose emerged over a period of four centuries from the 1500s through the 1800s. "Monday's Child" is probably from the late 1700s to early 1800s.
Nursery rhymes function in various ways. Some are counting-out rhymes; some are riddles; some help children learn numbers or letters, or, like "Monday's Child," the days of the week. Susan Loy couldn't resist adding some other educational elements to her rendition of this familiar rhyme. The days of the week and the months of the year are penned in blue on a yellow background, surrounding the entire verse of "Monday's Child," lettered in red. The outside border includes a classic black and white block pattern and a colorful alphabet in the primary and secondary colors.
"Monday's Child" is dedicated to our nephew, Owen Mitchell Dunn, born on March 3, 2006, a Friday's child. Wondering what day of the week you were born on? Check your dates at this Perpetual Calendar.
---
Primary cheerful colors, intricate designs, and alphabet blocks surround this popular Mother Goose nursery rhyme, "Monday's child is fair of face, Tuesday's child is full of grace..."

"Monday's Child"
Print Image Size: 6" x 6"

Print Paper Size: 10" x 10" Frame Size: 12" x 12"
Gift wrap available. Please specify occasion.
Read the COMPLETE TEXT for "Monday's Child"

| | |
| --- | --- |
| Are you ready to make a purchase? You can... | |
---
Use our SEARCH ENGINE if you are you looking for a Literary Calligraphy painting with a specific word or phrase!
Return to complete Online Catalog
Show Schedule | New Items | Request Color Print Catalog