Christmas Selections - "Poinsettia"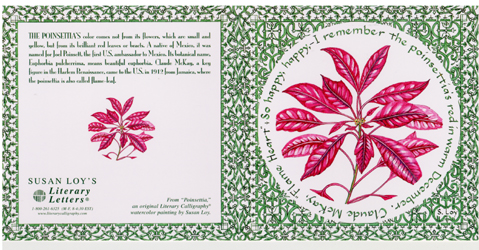 Susan Loy of Literary Calligraphy in Moneta, VA, joins text from literary classics or Biblical passages with delicate watercolor images and creates a unique bond between fine art and literature.
Here is the blank note card that is perfect as a greeting card or as a thank you note for a holiday gift. It is a small square card that fits in the rectangular envelope provided. No extra postage!
"So happy, happy, I remember beneath the poinsettia's red in warm December."
Claude McKay, "Flame Heart"
The poinsettia's color comes not from its flowers, which are small and yellow, but from its brilliant red leaves or bracts. A native of Mexico, it was named for Joel Poinsett, the first U.S. ambassador to Mexico. Its botanical name, Euphorbia pulcherrima, means beautiful euphorbia. Claude McKay, a key figure in the Harlem Renaissance, came to the U.S. in 1912 from Jamaica, where the poinsettia is also called flame-leaf.

| | |
| --- | --- |
| Are you ready to make a purchase? You can... | |
---
Use our SEARCH ENGINE if you are you looking for a Literary Calligraphy painting with a specific word or phrase!
Return to complete Online Catalog
Show Schedule | New Items | Request Color Print Catalog