Language of Flowers Selections - "DAFFODIL: REGARD THE GOLDEN RULE"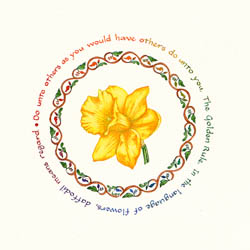 A bright yellow Trumpet Daffodil is encircled by a tiny floral border, and surrounded by The Golden Rule, calligraphed in shimmering color changes from blue through green.
"Do unto others as you would have others do unto you" is an adage common to nearly all cultures and religions of the world. The golden rule is universal. In Christianity it can be found in Matthew 7:12; in Confucianism it is Analect 15:23; in Judaism in the Talmud, Shabbat 3/9; in Buddism in Udanavarga 5:18; and in Hinduism in Mahbharta 5:1517.
The daffodil pictured is the common daffodil, Narcissus pseudo-narcissus, one of the earliest spring flowers. The name probably comes from Affodyle, and old English word meaning early-comer. The flower was grown by the Egyptians some 3000 years ago.

"Daffodil: Regard The Golden Rule"
Edition is limited to 3,000 signed and numbered prints from the original watercolor.
Print Image Size: 4 5/8" x 4 5/8"
Print Paper Size: 8" x 8"
Frame Size: 10" x 10"
Read the COMPLETE TEXT for "Daffodil: Regard The Golden Rule"

| | |
| --- | --- |
| Are you ready to make a purchase? You can... | |
---
Use our SEARCH ENGINE if you are you looking for a Literary Calligraphy painting with a specific word or phrase!
Return to complete Online Catalog
Show Schedule | New Items | Request Color Print Catalog
Contact Us | Frequently Asked Questions | Home
Help spread the word about Literary Calligraphy on Facebook! Become a fan by clicking Like on our Page...