Language of Flowers Selections - "SHAKESPEARE'S PANSY & ROSEMARY"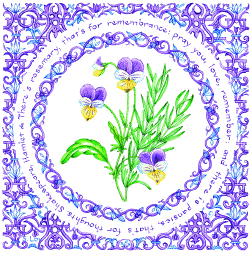 Susan Loy of Literary Calligraphy in Moneta, VA, joins text from literary classics or Biblical passages with delicate watercolor images and creates a unique bond between fine art and literature.
This print features two texts from Ophelia's famous speech in Act IV of Hamlet. "There's rosemary, that's for remembrance: pray you, love, remember. And there is pansies, that's for thoughts."
Shakespeare was quite familiar with plant lore and knew that rosemary had a reputation for strengthening the memory. At ancient weddings, it was entwined in the wreath worn by brides. The plant is Rosmarinus officinalis. In Latin, Rosmarinus means sea dew. The name was probably given because of the plant's fondness for the sea air. Officinalis means that it is official, medicinal, recognized in the pharmacopoeia.
Shakespeare's pansy the Viola tricolor, has many common names. Americans call it Johnny-jump-up or wild pansy; it's been known as heartsease, herb trinitatis, love-in idleness, and many more. It is a violet of three colors and was described by the herbalist Gerard in 1587.
"Shakespeare's Pansy & Rosemary"
Edition limited to 3,000 signed & numbered prints from the original watercolor.
Image size: 4-1/2"x4-1/2"
Print Paper Size: 8" x 8"
Frame Size: 10" x 10"
Gift wrap available. Please specify occasion.
Read the COMPLETE TEXT for "Shakespeare's Pansy & Rosemary"

| | |
| --- | --- |
| Are you ready to make a purchase? You can... | |
---
Use our SEARCH ENGINE if you are you looking for a Literary Calligraphy painting with a specific word or phrase!
Return to complete Online Catalog
Show Schedule | New Items | Request Color Print Catalog