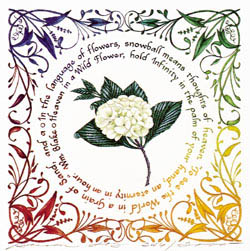 Language of Flowers Selections - "SNOWBALL: THOUGHTS OF HEAVEN"
From William Blake's Auguries of Innocence
Susan Loy of Literary Calligraphy in Moneta, VA, joins text from literary classics or Biblical passages with delicate watercolor images and creates a unique bond between fine art and literature.
Blake's text, "To see the World in a Grain of Sand, and Heaven in a Wild Flower, hold infinity in the palm of your hand, an eternity in an hour" moves through the color spectrum while revolving about an ornamental snowball (Viburnum opulus). The complementary arabesque border is comprised of stylized leaves, tendrils, and racemes.
William Blake (1757-1827) was an English engraver, painter, and poet. He was self-educated and began writing verse at the age of 12. Blake imagined that "all things exist in the imagination alone." The text here is one of his best known and was published circa 1803.

"Snowball: Thoughts of Heaven"
Edition is limited to 2,000 signed and numbered prints from the original watercolor..
Print Image Size: 4 1/2" x 4 1/2"
Print Paper Size: 8" x 8"
Frame Size: 10" x 10"
Read the COMPLETE TEXT for "Snowball: Thoughts of Heaven"

| | |
| --- | --- |
| Are you ready to make a purchase? You can... | |
---
Use our SEARCH ENGINE if you are you looking for a Literary Calligraphy painting with a specific word or phrase!
Return to complete Online Catalog
Show Schedule | New Items | Request Color Print Catalog