Poetry Selections - "EMILY DICKINSON'S WINTER FLOWERS"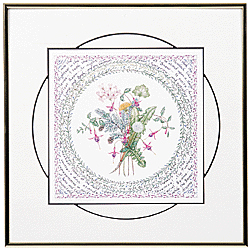 Susan Loy of Literary Calligraphy in Moneta, VA, joins text from literary classics or Biblical passages with delicate watercolor images and creates a unique bond between fine art and literature.
This print is part of the permanent art collection of the Jones Library, Special Emily Dickinson Collection, in Amherst, MA.
"There's a certain Slant of light . . ." is the seasonal text and theme of this painting where a large yellow-green dandelion and a puffball slant across a bouquet of hemlock, dripping fuchsias, and a geranium. The central text, lettered in green, also shimmers in the slanting light. The corner texts are dark blue with a wine border.
Save 20% when ordered as part of four print suite, "Emily Dickinson's Seasonal Flowers."
"Emily Dickinson's Winter Flowers"
Edition limited to 2,000 signed & numbered prints
Image size 9-1/2"x9-1/2"
Paper size: 11-1/2"x11"
Frame size: 16"x16"
Gift wrap available. Please specify occasion.
Read the COMPLETE TEXT for "Emily Dickinson's Winter Flowers"
If you would prefer to place your order over the phone, you can call toll free at 1 (800) 261-6325 M-F 8am-5pm EST.
Our Privacy Policy & Guarantee assure you a 100% safe and secure transaction!
Return to Poetry Selections
---
Use our SEARCH ENGINE if you are you looking for a Literary Calligraphy painting with a specific word or phrase!
Return to complete Online Catalog
Show Schedule | New Items | Request Color Print Catalog