Poetry Selections - "The Lake Isle of Innisfree"


by William Butler Yeats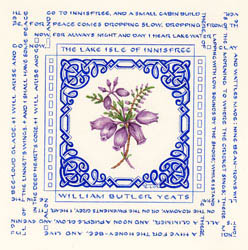 Irish poet William Butler Yeats wrote this ode to the purple glow of heather and the Irish countryside:
I will arise and go now, and go to Innisfree,
And a small cabin build there, of clay and wattles made:
Nine bean-rows will I have there, a hive for the honey-bee,
And live alone in the bee-loud glade.

And I shall have some peace there, for peace comes dropping slow,
Dropping from the veils of the morning to where the cricket sings;
There midnight's all a glimmer, and noon a purple glow,
And evening full of the linnet's wings.

I will arise and go now, for always night and day
I hear lake water lapping with low sounds by the shore;
While I stand on the roadway, or on the pavements grey,
I hear it in the deep heart's core.
William Butler Yeats was born in Dublin in 1865 and won the Nobel Prize for Literature in 1923. "The Lake Isle of Innisfree" was first published in 1892 and included in The Rose collection, published in 1893. Innisfree is a little island in Lough Gill near the Irish town of Sligo, where Yeats lived as a young boy. Innisfree is an anglicization of the Irish Inis Fraoch, which means heather island. Yeats wrote that the "purple glow" in the poem referred to the reflection of heather in the water.
Susan drew two species of heather that grow in Ireland near Sligo. Bell heather, Erica cinerea, has bell-shaped flowers made up of four petals fused together; its green narrow leaves grow in whorls of three. The common heather, Calluna vulgaris, is a low evergreen shrub whose tiny flowers grow along dense racemes. These heathers bloom abundantly from July to October. The central drawing is surrounded by a blue border made up of Celtic knots. The poem, also lettered in blue watercolors, surrounds the border, in an intricate interwoven pattern.
---

"The Lake Isle of Innisfree" Art Print
Signed prints produced from the original watercolor
Print Image Size: 6" x 6"
Print Paper Size: 10" x 10"
Frame Size: 12" x 12"
Gift wrap available. Please specify occasion.
Read the COMPLETE TEXT for "The Lake Isle of Innisfree"

| | |
| --- | --- |
| Are you ready to make a purchase? You can... | |
---
Use our SEARCH ENGINE if you are you looking for a Literary Calligraphy painting with a specific word or phrase!
Return to complete Online Catalog
Show Schedule | New Items | Request Color Print Catalog