Poetry Selections - "A Midsummer-Night's Dream"
William Shakespeare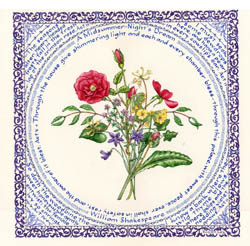 Through the house give shimmering light and each and every chamber bless-through this palace, with sweet peace, ever shall in safety rest, and the owner of it blest. ~ Act V
I know a bank where the wild thyme blows, where oxlips and the nodding violet grows. ~ Act II
The seasons alter: hoary-headed frosts fall in the fresh lap of the crimson rose. ~ Act II
I must seek some dewdrops here, and hang a pearl in every cowslip's ear. ~ Act II
So doth the woodbine the sweet honeysuckle gently entwist; the female ivy so enrings. ~ Act IV
Roses, violets, honeysuckle, ivy, and wild thyme come to life in Shakespeare's play and in Susan Loy's delicate watercolors. Susan features five quotations from A Midsummer-Night's Dream. In each corner, she lettered quotations from the play that mention flowers; the central quotation is a house blessing.
Susan painted the flowers from Shakespeare's A Midsummer-Night's Dream as he would have known them. The crimson rose in Act II is the Apothecary rose, Rosa gallica officinalis. The yellow cowslip is Primula veris. Wild thyme, oxlip, and violet are Thymus serpyllum, Primula elatior, and Viola odorata, respectively. The woodbine (honeysuckle) and ivy in Act IV are Lonicera periclymenum and hedera helix. This colorful bouquet of red, yellow, and purple flowers is surrounded by blue lettering and an Elizabethan border in purple.

"A Midsummer-Night's Dream" William Shakespeare, print by Susan Loy
Signed prints from Susan Loy's original watercolor
Image size: 9-1/2" x 9-1/2" ; Paper size: 11" x 11-1/2" ; Frame size: 16" x 16"
Gift wrap available. Please specify occasion.

| | |
| --- | --- |
| Are you ready to make a purchase? You can... | |
---
Use our SEARCH ENGINE if you are you looking for a Literary Calligraphy painting with a specific word or phrase!
Return to complete Online Catalog
Show Schedule | New Items | Request Color Print Catalog
Contact Us | Frequently Asked Questions | Home