Anniversary, Wedding, Romance Selections - "TO MY DEAR AND LOVING HUSBAND"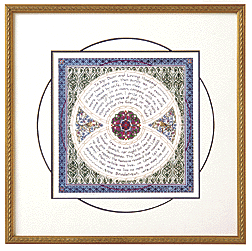 Susan Loy of Literary Calligraphy in Moneta, VA, joins text from literary classics or Biblical passages with delicate watercolor images and creates a unique bond between fine art and literature.
In "To My Dear and Loving Husband," America's first woman poet, Anne Bradstreet, celebrates a love that she prizes "more than whole mines of gold," a love that, "rivers cannot quench." Susan Loy has calligraphed the entire poem, incorporating an austere design based on ornate scroll carvings and pillow lace designs common in early American hand crafts.
Twin turtle doves (love and fidelity), nestled in bouquets of wild thyme, share this painting with Colonial sampler- inspired designs that enlace the romantic poem.
"To My Dear and Loving Husband"
Edition limited to 2,000 signed & numbered prints
Image size 9-1/2"x9-1/2"
Paper size: 11-1/2"x11"
Frame size: 16"x16"
Gift wrap available. Please specify occasion.
Read the COMPLETE TEXT for "To My Dear and Loving Husband"

| | |
| --- | --- |
| Are you ready to make a purchase? You can... | |
---
Use our SEARCH ENGINE if you are you looking for a Literary Calligraphy painting with a specific word or phrase!
Return to complete Online Catalog
Show Schedule | New Items | Request Color Print Catalog