Weddings Selections - "THE MARRIAGE OF TRUE MINDS"
by William Shakespeare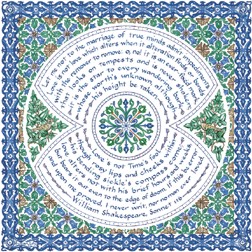 Let me not to the marriage of true minds
Admit impediments. Love is not love
Which alters when it alteration finds,
Or bends with the remover to remove:
O, no! it is an ever-fixed mark,
That looks on tempests and is never shaken;
It is the star to every wandering bark,
Whose worth's unknown, although his height be taken.
Love's not Time's fool, though rosy lips and cheeks
Within his bending sickle's compass come;
Love alters not with his brief hours and weeks,
But bears it out even to the edge of doom.
If this be error and upon me proved,
I never writ, nor no man ever loved.
This Sonnet 116 is a Perfect Wedding Gift.
The deep blue text is surrounded by a border of blue, green, and brown designs which Susan Loy adapted from Elizabethan ornamentation.
On either side of the text, two small turtledoves, surrounded by ivy leaves, face each other. The European turtledove (Streptopelia turtur) is the British counterpart of the American mourning dove. They are woodland birds that feed on seeds, leaves, and buds and have long been associated with love. The ivy is a symbol of fidelity, friendship, and wedded love or marriage.
The first edition of Shakespeare's sonnets was published in 1609 by Thomas Thorpe, and scholars generally agree that Shakespeare wrote the sonnets between 1593 and 1600.
"The Marriage of True Minds" William Shakespeare, Sonnet 116, print by Susan Loy
Edition limited to 3,000 signed and numbered prints from Susan Loy's original watercolor
Print Image Size: 9-1/2" x 9-1/2"
Print Paper Size: 11-1/2" x 11"
Frame Size: 16" x 16"
Gift wrap available. Please specify occasion.
Read the COMPLETE TEXT for "The Marriage of True Minds"
We have partnered with amazon.com ~ you will enjoy the same price, quicker delivery, and lower shipping rates than we can offer in-house.
Are you ready to order? Click the Amazon logo below...

---
Use our SEARCH ENGINE if you are you looking for a Literary Calligraphy painting with a specific word or phrase!
Return to complete Online Catalog
Show Schedule | New Items | Request Color Print Catalog
Contact Us | Frequently Asked Questions | Home