Susan Loy's "Literary Calligraphy" paintings combine classic quotes (from Shakespeare, Thoreau, Biblical sources, etc.) with beautiful illustrations that describe the quote. Susan's delicate watercolor images create a unique bond between fine art and literature ~ a single painting may require weeks, or often months, to complete.

Literary Calligraphy Update...

We moved to Prague in the Czech Republic in 2018. As of 2023, we have permanent residence status and will continue living in Prague for the next few years. We have been busy working on several projects. Susan produced a painting, "Czech Flower Alphabet," that is being sold as a fundraiser for the Unitarian church in the United States.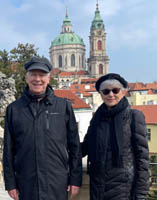 We launched the 2023 Prague International Art Exhibition and recently produced a book, To Live Deliberately, that includes some new art Susan created in Prague. We have no current plans to exhibit in the USA.
Regarding purchasing Literary Calligraphy® prints and stationery, we have enlisted the help of our nephew James Ayers to stock inventory at our amazon.com store. There is an order button on any item that offers the Amazon option, or you can see a list of Amazon-fulfilled items here.
~ Susan Loy & Ron Ayers

susanloy@literarycalligraphy.com

Read the latest about our adventures in Prague!
Go to... [FACEBOOK]
You can purchase Literary Calligraphy calendars, cards, and stationery online at amazon.com.

See how Susan actually creates Literary Calligraphy on YouTube
Click any link above or below to get started ~ please come back often to see our latest work, and if you have any questions, do not hesitate to contact us...