Susan Loy's "Literary Calligraphy" paintings combine classic quotes (from Shakespeare, Thoreau, Biblical sources, etc.) with beautiful illustrations that describe the quote. Susan's delicate watercolor images create a unique bond between fine art and literature ~ a single painting may require weeks, or often months, to complete.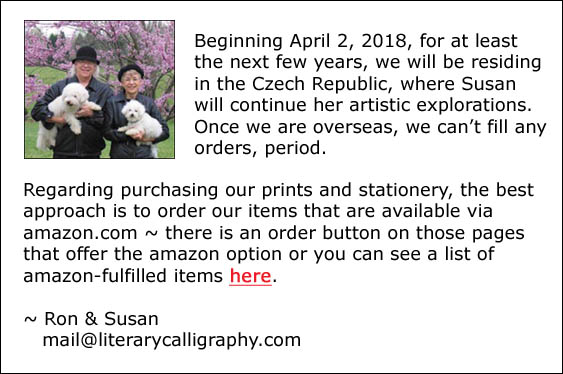 Read the latest about our adventures in Prague!
Go to... [FACEBOOK]
You can purchase Literary Calligraphy calendars, cards, and stationery online at amazon.com.

See how Susan actually creates Literary Calligraphy on YouTube
Click any link above or below to get started ~ please come back often to see our latest work, and if you have any questions, do not hesitate to contact us...