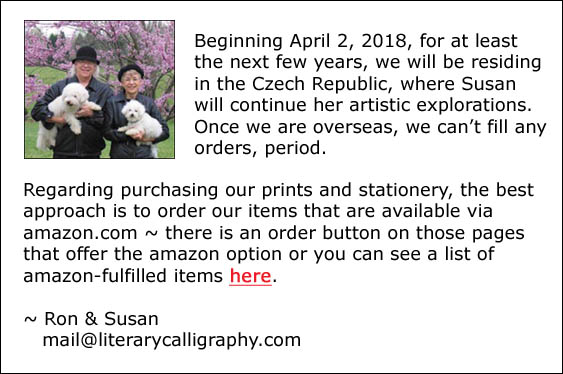 Customer Comments to Literary Calligraphy!
Hi Susan & Ron,
Dick and I attended the wedding of a friend last week, and there as part of the ceremony (well, right behind the punch bowl) was Susan's piece on marriage. Evidently the bride had discovered you independently of me. It was a thrill to see it there. This an unusual wedding, in their home, where the groom is Jewish and the bride Greek, was a cross-cultural fusion by a lady Rabbi and a lady Greek Orthodox of their respective rituals. And Susan's art served as a kind of centerpiece. Wonderful!
Thought you'd enjoy knowing about it. Kate J.
---
Dear Susan and Ron,
I have framed a beautiful White House Easter Egg picture that I received during the Easter Egg roll so many years ago. It has been hanging on the wall ever since I had it framed.
Yesterday, my fiancé presented me with my second framed Susan Loy work, "Let me not to the marriage. . . ." a poem I have been teaching in the classroom for many years and always wished to have read at my own wedding.
Your work is very beautiful and will be treasured for many years to come. Thank you for taking the time to come to the NCTE Convention in Philadelphia and set up a booth. Otherwise, I would not have re-discovered this treasure. I am going to write about you in our blog.ourideagarden.com
---
Hi Susan-
I've been a follower of yours for 15 years. I bought my first piece in Ellicott City, Md. This might sound silly but I have been waiting 15 years for you to do the Apache Wedding prayer. Imagine my surprise when I finally had a few minutes to play catch up and find out what you have been up to and there it is under new releases!!!! Beautiful!!!!!! I love it!!! I have to find a place for it but I will be ordering one. Glad to see you are still in business and still doing beautiful works of art!
One of your loyal fans!!!
---
Dear Susan Loy and Staff,
I thought I would send an email to let you know of my satisfaction with my recent order!
In particular, I love the New Testament Note Card Assortment.
Please convey to Ms. Loy my appreciation of her insight of thought and beauty of her cards. Her artwork I truly cherish. It is so very special to send her cards to those are close and are endearing.
With great appreciation,
Joann D.
---
Susan —
Friends and family always glow when they receive a gift of your art.
Thank you, cordially — Dick & Barbara W.
---
Just love your work....just presented my daughter and her fiancé their special gift "Love is patient" and it is already hanging in their new home. They liked it as well. Will call you tomorrow to order from you for a dear friend. Please come to the flower show in Philadelphia again...that is where I met your husband at the booth....
Regards,
Lorraine G. from Philadelphia
---
Thank you for the order confirmation. I feel sure the recipient will be delighted and surprised. Literary Calligraphy gifts are so special! I'm sure I will order again. Sincerely, Mary Ann P.