Anniversary, Wedding, Romance Selections - APACHE BLESSING ... Author Unknown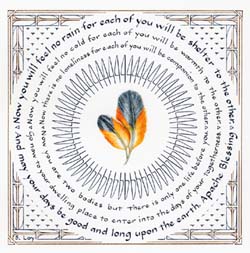 Now you will feel no rain for each of you will be shelter to the other.
Now you will feel no cold for each of you will be warmth to the other.
Now there is no more loneliness for each of you will be companion to the other.
Now you are two bodies but there is only one life before you.
Go now to your dwelling place to enter into the days of your togetherness.
And may your days be good and long upon the earth. Apache Blessing
This popular blessing is known by many names: Apache Wedding Blessing, Apache Wedding Prayer, Apache Song, and Cherokee Wedding Prayer.
This blessing has been published in several variations, including an extended version. If the source is Apache, the original language would have been Athabascan. Susan chose oriole feathers to illustrate the quotation. In nature, feathers provide warmth and shelter. Orioles were revered by the Apache, who likened them to yellow flowers and corn pollen. The common name, oriole, is from aureolus, Latin for golden.

"APACHE BLESSING" Traditional, print by Susan Loy
Signed prints from Susan Loy's original watercolor
Print Image Size: 6" x 6"
Print Paper Size: 10"x 10"
Frame Size: 12" x 12"
Read the COMPLETE TEXT for "APACHE BLESSING"
We have partnered with amazon.com for this item ~ you will enjoy quicker delivery, and lower shipping rates than we can offer in-house.
Are you ready to order? Click the Amazon logo below...

---
Use our SEARCH ENGINE if you are you looking for a Literary Calligraphy painting with a specific word or phrase!
Return to complete Online Catalog
Show Schedule | New Items | Request Color Print Catalog
Contact Us | Frequently Asked Questions | Home