Language of Flowers Selections - "LANGUAGE OF WILD FLOWERS"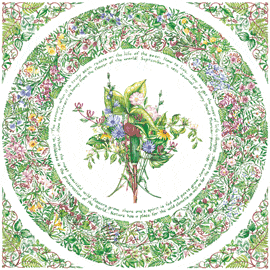 Susan Loy of Literary Calligraphy in Moneta, VA, joins text from literary classics or Biblical passages with delicate watercolor images and creates a unique bond between fine art and literature.
Seven species of wild flowers including jack-in-the-pulpit, chicory, wild clemati, black-eyed susan, wild rose, and honeysuckle form the central bouquet that is encircled by gentle texts from Henry David Thoreau and a wreath containing 26 species of wild flowers --one for each letter of the alphabet. Delicate fern fronds weave through the wreath and corners to unify the painting.
The Thoreau texts: "The scenery, when it is truly seen, reacts on the life of the seer. How to live, How to get the most of life... How to extract its honey from the flower of the world." September 7, 1852, The Journal of Henry David Thoreau. "Where the most beautiful wild flowers grow, there one's spirit is fed, and poets grow." June 15, 1852, Journal. "In Wildness is the preservation of the world... Nature has a place for the wild clematis as well as for the cabbage." "Walking" Essay.


"Language of Wild Flowers"
Edition limited to 3,000 signed and numbered prints
Image size: 15 1/2" x 15 1/2"
Paper size: 18" x 18 1/2"
Frame size: 23" x 23".
Save 20% on this print when you order "Floral Offering: A Pair of Prints"
Gift wrap available. Please specify occasion.
Read the COMPLETE TEXT for "Language of Wild Flowers"

| | |
| --- | --- |
| Are you ready to make a purchase? You can... | |
---
Use our SEARCH ENGINE if you are you looking for a Literary Calligraphy painting with a specific word or phrase!
Return to complete Online Catalog
Show Schedule | New Items | Request Color Print Catalog