Literary Calligraphy Selections for Emily Dickinson
Susan Loy has created six different paintings using Dickinson's poetry and letters. These include a suite of four floral prints, a note card, and a Christmas design.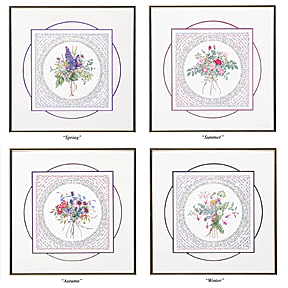 "Emily Dickinson's Seasonal Flowers." A suite of four prints, that may be collected individually or as a group, combining Dickinson seasonal and floral poetry with illustrations that illuminate the quotes. Signed and numbered, these prints are highly collectable for the sophisticated flower and poetry lover. These are part of the permanent collection at the Emily Dickinson Special Collection in Amherst, MA.
Go to "Emily Dickinson's Seasonal Flowers"
Each "Seasonal Flower" print is available individually according to season:
"Spring Flowers" ... "Summer Flowers"